Sergiu Roman是一名热衷将哲学作为自己作品主题的艺术家,在他的作品里,观者很容易便能发现一些特别的符号。这些符号揭示着人类生存的奥秘,也是他作品不可或缺的元素。Sergiu希望通过这些符号表达自己的哲学思想,并以此促进人们感受世界。
Romanian artist
Sergiu Roman
Sergiu Roman was born in Iasi, Romania. As a self-taught artist, he explored many areas of painting, styles and techniques, since 1990 when he started for the first time to make oil paintings, at the age of thirteen. Although painting was his true calling, he became increasingly preoccupied by philosophical problems, and in 2003 he attained the Bachelor Degree in Philosophy and Logic.
While working as a high school teacher of Psychology and Philosophy, he continued painting and stayed closely in touch with the artistic elite in Romania, so in 2010 he joined a team of artists and experts commissioned to paint and restore historical churches' frescoes. In 2011, he moved to Shanghai, where he shortly resumed his creative activities.
Artworks 作品
Sergiu是一名追求真实的艺术家,在创作时他并不关心自己的作品是否符合人们的审美标准,而是尽可能完整、诚实地表达自己的想法。他认为,艺术不需要为取悦别人而创作,更不需要为了迎合别人的审美而妥协。
POLYPHONIE
Oil on canvas
100x100cm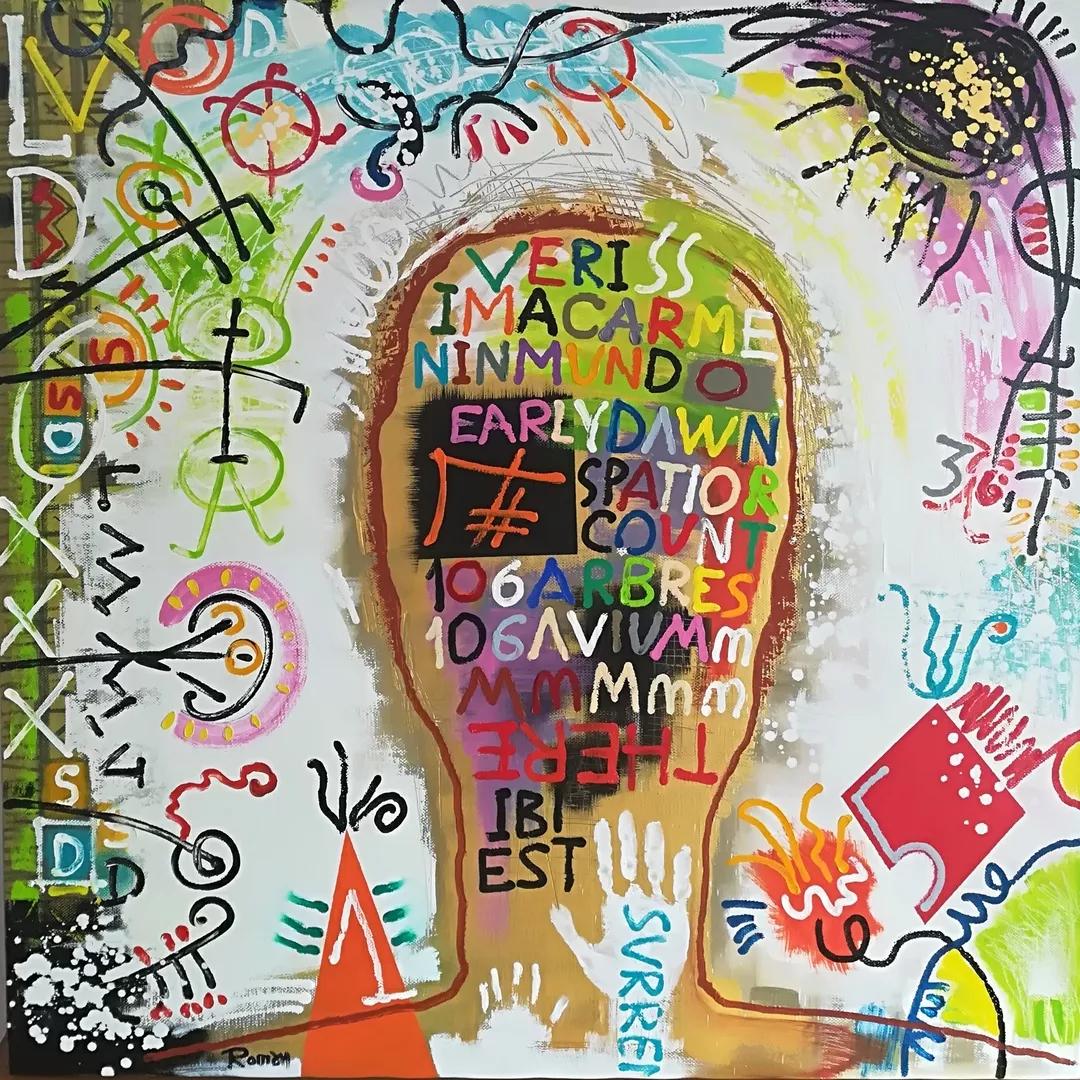 RUMI'S HEART HAD BECOME A BIRD
Oil on canvas
100x100cm
Sergiu希望通过作品向观者传达诗意生活的美好,他希望观者能透过作品更加贴切地感受生活,更接近他们真实的自我。
Through all Sergiu's artistic stages, more or less abstract, he pursued the concept of Mystery. The study of philosophy shows that there are no infallible answers to our most important questions: What is the meaning of life / history / aesthetic sensibility / life-changing encounters? Etc. Nevertheless, art can cast a light. So much, that it sharpens our sensibility to the point where we can be seized by personal revelations. This is exactly what Sergiu tries to accomplish through his art: to facilitate the viewers' honest contact with their very essence.
REGINA
Oil on canvas
120x160cm
JACK OF DIAMONDS
Oil on canvas
120x160cm
卫兵、王后、国王不仅是扑克牌上的宫廷人物,更是Sergiu作品强大的原型。他们揭示人类生存的奥秘,显现出人类寻求客观真理的冲动,也象征着人类强大的创造力量。

Creating intricate compositions in which the human presence is placed right in the middle of the conundrum, using symbols and mysterious graphisms combining various techniques in unexpected ways, Sergiu Roman's paintings address our deepest archetypal sensibility. They awaken our need to (re)define ourselves, and consequently to choose freely our place in the world. His paintings are intended enigmas, which act like metaphysical mirrors: the viewers would only apprehend their own reflections, hopefully their most intimate metaphysical fabric. The purpose of his art is not to elicit certain feelings, but to make the viewers reconsider their concept of personal destiny.
KING OF SPADES
Oil on canvas
120x160cm
KING OF WANDS
Oil on canvas
120x160cm
人们常说,没有思想的艺术作品是无趣的,更是空洞的。Sergiu的作品蕴含着大量哲学思考,是浩瀚哲学知识与艺术的结合体。艺术不应该只是一件装饰品,它是强大的,亦是可以改变人们生活的精神引擎。